Season 2007
Super Bowl XLII
New York Giants vs. New England Patriots_____17 : 14
( 180 min. 2 Versions (ARD-german, FOX-US) the FOX Version is in HD, with Pre Game, Halftime & Post Game)


Infos:
--> Date: Sunday, 2/3/2008 Start Time: 4:30 PM MST
--> Game Weather: Indoors, Temp: 70° F (21.1° C)
--> at University of Phoenix Stadium, Glendale, AZ
--> Paid Attendance: 71,101 Time: 3:35

Super Bowl MVP: Eli Manning
Es ging verhalten los, beide Defense Reihen dominierten das Spiel. Tom Brady lernte zum ersten mal richtigen Druck kennen, 5 mal ging er insgesamt per Sack zu Boden. Bei den Giants klickte die Offense anfangs nicht richtig. So ging es mit einer knappen Führung für die Patriots ins 4.Quarter. Dann wurde es dramatisch und das Spiel wurde zu einem der spannensten überhaupt. Am Ende mußten die Patriots den Traum von der Perfect Season aufgeben, die letzte Chance verpuffte eine Sekunde vor dem Ende. Eli Manning hingegen machte seinem Bruder den Super Bowl Erfolg nur ein Jahr später nach.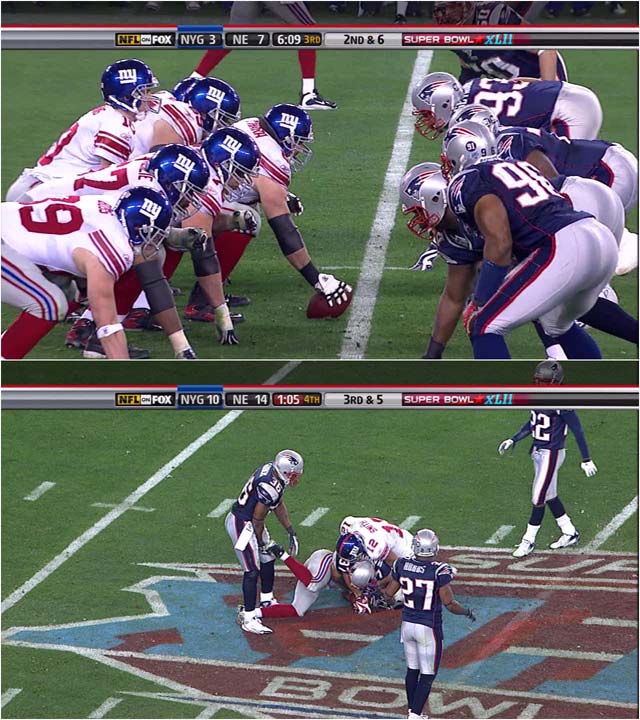 Cover for Super Bowl XLII DVD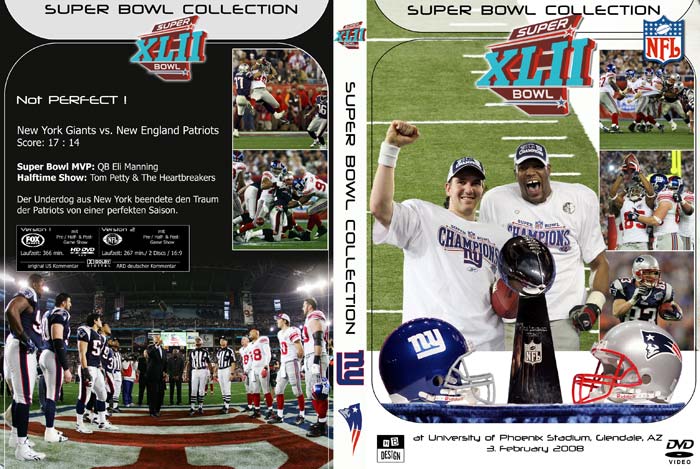 back